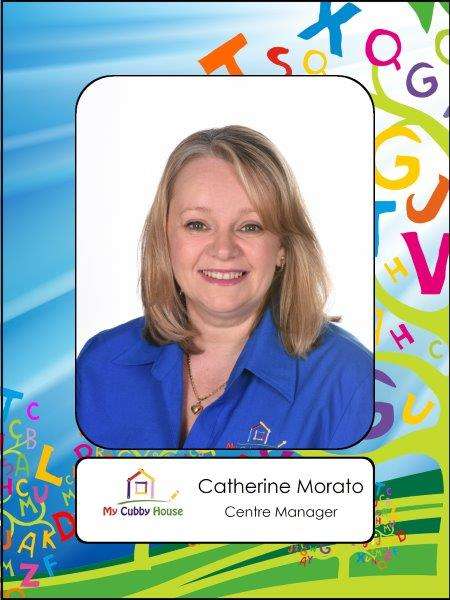 Catherine Morato
Centre Manager
Catherine Morato has over 20 years' experience in the Early Learning and Education industry and is a university-trained teacher. She holds a Bachelor of Education in Early Childhood Teaching and is passionate about early childhood education. Catherine also holds an Advanced Diploma in Leadership and Management (Community Sector) and is currently completing a Certificate 4 in Training and Assessment.
She commenced her career in Early Childhood Education from an assistant capacity and continued to study until she completed her teaching degree. Catherine has worked in various roles in the Early Childhood and Education sector including teaching, Centre Director, Operations Manager, University Advisor, and Centre Manager.
Catherine believes in the importance of play based learning theory in children's development and learning including. She is passionate about the Abecedarian Approach which highlights the importance of language in everyday interactions which supports children's Literacy and Numeracy learning outcomes.
Catherine believes that children are capable learners that thrive in early childhood settings when relationships between family and educators are well-established with open communication.
Educators professional development and growth is one of her passions and mentors each educator to reach their full potential. She believes in providing Educators regular professional development to ensure that learning programs, theories and early childhood philosophies reflect new and contemporary practices that enrich children's learning and development.
Natasha Torelli
Assistant Director
Natasha has been working in the Early Childhood Education sector for over 20 years across all ages. She began her Early Childhood Education career as an assistant educator, before becoming a group leader in 2013. After teaching the wonderful children of Junior Kindy 1 for 18 months, she stepped up to become Educational Leader before making the transition to Assistant Director in August 2020. She is passionate about children's education and assisting our educators in the implementation of our National Framework. Natasha holds a Diploma in Early Childhood Education and Care and is currently studying an Advanced Diploma in Community Sector – Leadership and Management.
In her spare time, she enjoys spending time with my family, watching movies, attending singing and dancing lessons.
Sharon Haywood
Senior Admin
Sharon has been working in the childcare industry since 2011 and holds a diploma in Early Childhood Education & Care. Prior to this, she worked for a bank in England and a government department in New Zealand, before taking a career break to raise a family here in Australia. After 7 years working as a Lead Educator in the baby & toddler rooms, she jumped ship back into an administrative role within the management team here at My Cubby House.
She now feels that she has the best of both worlds – She gets to emerge herself in accounts but she still has the pleasure of working with children!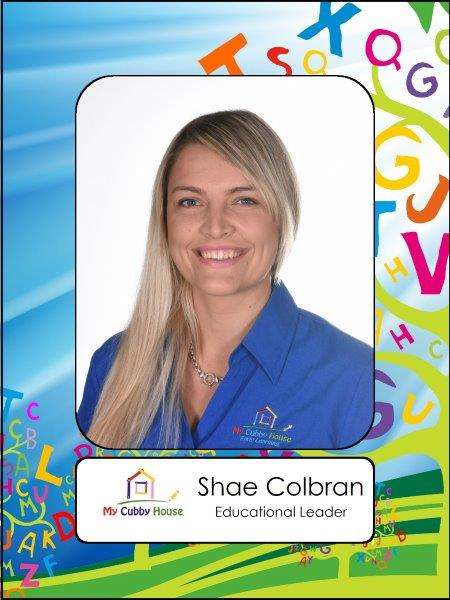 Shae Colbran
Educational Leader
Shae Colbran has worked in the Early Childhood Education sector for 13 years and holds a diploma in Early Childhood Education. In this time, she took a short break to have her own children who are now 7 & 9. She has worked at My Cubby House since 2016 and was originally group leader in Junior Kindy and given the opportunity to step up into the Educational Leader role.
Over the years at My Cubby House, she has attended many training sessions.  Shae is always willing to learn and further develop her skills as she feels it is our job as Educators to ensure that each child receives early intervention for a right start to their education. Therefore, she truly believes in the abecedarian approach and how this can help each child through enriched language interactions.
Shae is passionate about teaching and developing a positive relationship with educators and families. I believe it is important to provide a curriculum that has a holistic approach and supports a child's development, interests, and wellbeing from diverse cultures and backgrounds which links in perfectly with my belief in the abecedarian approach. Shae is looking forward to sharing and mentoring the Educators at My Cubby House to work toward embedding Early Childhood educational perspectives and providing the children with enriched caregiving, language priority, Conversational reading and Learning Games which are all strategies of the abecedarian approach.
Elena Sapkaroski
Receptionist
Elena is the receptionist at My Cubby House Early Leaning. She completed her Business diploma qualification at the young age of 17 years old. She worked in the administration industry since 2018 and through this time she has been able to gain lots of experience from a range of firms around the Gold Coast.
She believes in quality customer service and that first impressions are vital in maintaining a good relationship with families as she is the first from of contact families experience.  Elena is passionate in what she does and believes in creating a bond by welcoming everyone with open arms is rewarding. Even though she doesn't have experience in the children's rooms she is family driven/orientated person that has a nurturing nature. When she's not keeping busy with work you can find her having fun with my friends.
Teresa Brosas
Early Childhood Teacher, Pre-Prep 1
Hello families, my name is Miss Teresa and I am the Pre-prep 1 teacher. I have been in child care for over 10 years and 7 years as ECT. I received my Bachelor's Degree from Griffith University in 2011 and have been working in the Early Childhood sector since then. I thoroughly enjoy my role as ECT and believe that this age plays a vital role in what children learn for life and thus feel strongly about my role in helping them be prepared as much as possible for the "real world".
I am passionate about teaching and developing a positive relationship with both my students and their families. I also believe that working together with the families helps create positive role modelling for the child which develop better outcomes for all specially for the children. I am looking forward to working collaboratively with you and getting to know you and your children.
Miss Teresa
Marie Bernardo
Educator – Kindy Fitness Instructor
My name is Marie Bernardo, and i'm originally from a small suburb called Berala in Sydney, Australia. I enjoy reading. gardening and anything chocolate!
I moved up to the Gold Coast only 3 years ago, where i started my journey to becoming a childhood educator.
Since then, i have completed my Certificate 3 from TAFE, now own 2 dogs named Bella and Haggis, and have become an Educator in the Adventurers Alley Room.
I also lead the Kindy Fitness program every Monday, where my focus is to cultivate courage, imagination and expression in our young learners through dance and music!
I thoroughly enjoy my role as an educator thus far and the experiences i am able to share with the children everyday. For this, i have a deep appreciation for the My Cubby House community and the people who i have met and have mentored me along the way. Go Team!
Jie Kang
Educator- Language ( Mandarin Teacher)
Hi, my name is Jie Kang, a Mandarin teacher in MCH this year.
I am from Tianjin, a city in Northern China. I hold a Certificate III of Early Childhood Education & Care (ECEC) and I am now working towards my Diploma of ECEC.
Learning a language can open up a new world, new experiences, and opportunities. I believe there are many benefits learning a second language at a young age.
I am so pleased to teach Mandarin to my young friends in MCH and will make sure they have fun while learning.
See you on Wednesdays! (小朋友们,我们周三见!)
Jason Kozilek
Educator – "Music with Mr Jason"
Hi, My Name is Jason. I have been working in Early Learning Education for approximately 8 years.
I hold a cert 3 in children services and have been in My Cubby House Early Learning for about 4.5 years.
I currently care for the children in our Toddlers rooms. During the week on Fridays, I bring my guitar and share music lessons with all the age groups from Nursery to Pre-prep.
I have played guitar for 35 years and learnt from a local country performer and later I taught myself though music magazines. It has surprised me how each and every child at My Cubby House really enjoys my music sessions and are always excited about it.
Sarah Harris
Educator – "Early Childhood Teacher"
Hello, I'm Sarah and I am the Early Childhood Teacher in Kindergarten Crossing 2.
I have recently moved from Melbourne, Victoria to Southport, Queensland with my husband and three sons.  My eldest, Sonic, will be in Grade 4 this year. Marley is enrolled in a 4 year old Kinder program, and my youngest, Neo, is 1 and crazy for the wiggles!! I have been working with children since 2003 with my first experience being in Outside School Hours Care. I worked as the Co-ordinator of the service for several years, whilst also completing my Diploma of Children's Services onsite. While at the school, I also had experience working as the schools numeracy and literacy aide in the junior years. I developed a passion for working with the younger years and so went on to complete my Bachelor of Early Childhood Education at Monash University, whilst working in an early childhood service. I mostly worked with the babies and loved it, focusing on providing consistent routines and building trusting relationships with the children and their families. When I graduated at the end of 2010, my husband and I moved to Ipswich, Queensland, as my husband was posted to Amberley RAAF base as a member of the defence force. We lived there for 4 years, and in that time I worked as a relief teacher in primary schools and as the Kinder Teacher at a community kinder in Jimboomba. When my husband retired from  he army we moved back to Melbourne with our first son almost 1 at the time. For the last 8 years spent back in Melbourne I worked as the Kindergarten Teacher and Educational Leader at a small family owned service. It was there I really developed a passion for preparing children for school by focusing on their strengths, and interests, and encouraging them to develop a love for learning!! In 2020 I graduated from Melbourne University with a Masters of Evidence Based Teaching which I completed online to further my skills and knowledge. 
I am looking forward to getting to know the children, their families and the staff and educators of MCH